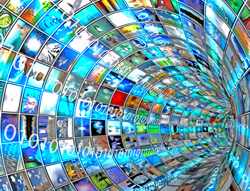 There won't be many switched on marketers who haven't used video at the top of the sales funnel for lead generation.

All the evidence shows it works, with a video play button mesmerising email recipients into opening

4x as many emails as they would without. But how many B2B marketers are using video at other stages of the buying process, all the way through the funnel to a successful sale? A new report published last week* suggests that if you haven't, you really should - because it works.
9 out of 10 cats prefer it…
The report revealed that a vast majority (91%) of B2B buyers prefer to consume visual content during the buying process and they valued video content over other visual formats such as E-books, webinars and infographics. So why don't we give them video content? One challenge is that we like to get something back from our videos. Why should we let people have them for nothing? We want at least a name, an email address and a job title before we'll let them see the video. But according to the report, 75% of users expect videos to be un-gated.

The online equivalent of 'I'm just looking thank you' when being approached by a sales assistant in a retail store. But if up to 60% of the buying journey is managed by the customer themselves, why put up a hurdle to accessing video content that takes them there?
There is much insight to be gained in seeing even anonymous viewers engage with video on-line. By using short-form video, accessed at each stage of interest, the buyer will be more than ready to share their contact details once they've made their way through your video journey.

Your sales people should love it too. After all, all the hard work up till then has been done by your videos and the customer themselves.
Understanding buyer Intent with video metrics
By using video viewing metrics you can start to really understand the buying journey. Are they watching whole clips? Are they forwarding videos to colleagues – an excellent buying signal in a complex sale?

This is a whole new way of lead scoring where you can qualify with fact based insights based on what 'you know they know'.

In theory, having done so much of the ground-work already, these leads should score more highly than those who have not participated in a video journey.
Video during the mid to late stages of the buying cycle
Integrating video into your marketing automation and CRM platforms is a great way to keep engagement data accurate. When you have good data about prospects you can start to be strategic about how you use video in the mid to late stages of the buying journey.

It's an opportunity to personalise the video journey to a greater degree, sharing only clips with relevance to the customer's interests and background, really moving the sale forward with every click and view.
At this stage, video helps continue the conversation and personalisation can make an important emotional connection at the moment of truth. After all, people buy from people, right? (See next week's blog for more insights about this).
Think about video differently
You've really got to get into the customer's shoes to think about how video could progress a sale at every stage in the buying cycle. One route might be to send out an email with a short (60-90 seconds) problem-busting elevator pitch. That could be followed with a link to more product or solution focussed videos which in turn could lead to a call to action. Finally, a sales person using personalised video to help close the deal completes the cycle. Now imagine that journey without video.

No competition, right?
And finally…
Using video throughout the buying cycle doesn't mean a seismic shift from the way you work today; it just means a shift in emphasis.

It also means taking the time to go beyond lead gen all the way through to helping contribute to the close. Now that really is a different way of thinking.

If you want help mapping this journey and making it happen then I'm bound to say, it's what we do.

*DemandGen 2015