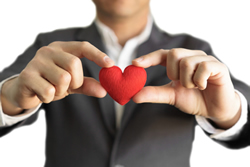 Understanding that customer satisfaction sits at the heart of long-term business success is hardly rocket science. Happy customers buy more and become advocates for your products and services. But the digital democracy we find ourselves in today makes it more important than ever that the customer experience we deliver is the best it can be. So why has it taken many of us so long to recognise the power of delivering a VIP service to customers, particularly in the high value B2B space?
According to a recent
Gartner's CMO Spend Report
, customer experience is the top innovation project for 2015 so there's no doubt that even the stragglers are waking up to this new reality.
Keep it real
Retailers, famously like
Burberry
, have been quick to recognise this. And where B2C goes, B2B is rarely far behind. When we had some control over what customers could see and read we could say what we wanted and know that any contradiction to our version of the truth would be minor. Not so today. Now those little waves of dissent can become a tsunami of dissatisfaction. Which is why today, authenticity is key.
An old friend and colleague,
Malcolm Levene
, has been advocating this for years and the rest of the world has only just begun to catch up. According to Malcolm, who ran a highly successful retail business himself, authenticity was the key to his retail success. The 'I'm Lovin' it' badge on a miserable employee at a famous fast food restaurant just isn't cutting it if they really don't look like they are 'lovin' it'. And let's face it, most don't. We just don't believe that corporately driven propaganda anymore. Today we discover the truth for ourselves either when we buy, or even more pointedly, before we buy by looking at other customer's views on-line.
So when someone turns up at a Burberry store and gets greeted by name they feel special. They feel even more special when someone remembers the colour of the last dress they bought and how well the bag might go with it. But that's consumer land. We're B2B right, so what's that got to do with us?
When VIP service becomes the norm
Well, let's inch towards B2B through another example of VIP treatment. Personalised video used in premium car dealerships was a brilliant differentiator six months ago. You took your car for a service and then, in the spirit of VIP treatment mixed with openness and transparency, you received a video report on the condition of your vehicle. A one to one video featuring your car. Impressive, yes? In fact so impressive that other non-premium manufacturers have been quick to recognise its power and it's quickly becoming the new norm. Soon the dealer that doesn't provide this service will be the exception and my guess is will start to lose business. Fast.
VIP treatment in B2B
So think about your business. Even if you're a giant multi-national corporation who only deals with other giant multi-nationals, what do you do to help make your customer's experience a great one? Do your customers enjoy working with you? Will they promote you to their peers? Or are they so dissatisfied that they're counting the days to the end of the contract when they can get a better experience with one of your competitors?
Many organisations are putting a renewed focus on getting the customer experience right at every stage of the buying journey and beyond. That means a focus on delivering VIP treatment wherever it's practical and possible to do so.
Here's an idea
For our part, we've recently been shifting away from traditional campaign marketing to a version of the same that accommodates some element of VIP treatment. Using our Personalised Video platform,
vCreate
, we've been enabling sales and accounts teams to send exclusive previews of campaign videos to customers before they launch to the wider public. A simple idea with great results.
But that's just one idea. There are many ways for B2B marketers to make a contribution by putting some degree of personalisation into whatever they do – with 'one to one' as the ultimate goal.
When you consider that, according to the CEB, the sales experience represents 53% of the buyer's likelihood to be a loyal customer and brand advocate, much rests on what we, as B2B marketers, can do to help. Think VIP and you'll get there.
www.vcreate.tv