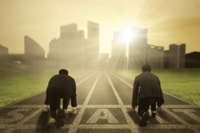 Powering Bids with Personalised Video


Bids are generally part of everyday life for most B2B brands yet the costs involved in responding can be eye-wateringly high. Indeed, even getting on to the vendor list can be the result of huge effort on the part of marketing and sales teams and is often an invisible cost that isn't counted in. So the bottom line is that, if you elect to participate, you really need to win.

After all, business life is cruel. As the song goes, the winner takes it all. If you come in second place you've lost.


So what makes a winning bid? Ticking all the usual boxes is just the start point – or at least as many as you can. But that's a given.

Once those boxes are ticked, and you've 'met the brief', what elements will help tip the balance in your favour?


Tipping the balance


Some anecdotal research* with a small sample of procurement heads said that their biggest turn-off was when tender responses look like someone has done no more than cut and paste their sales blurb. Equally, they don't like responses that seem to shoe-horn a ready-made solution to vaguely fit their needs. They want to feel listened to. So personalisation and relevance are key.


What's perhaps more revealing is that they consider the best responses add an inspiring and thought-provoking element – something beyond initial expectations.


Executive sponsorship and beyond…


When searching for this 'missing ingredient' it's worth remembering that, with everything else being equal, making a personal connection can be key. Many large enterprises, that might otherwise seem cold and impersonal, have started to enlist the help of their senior leaders as executive sponsors. A high level personal commitment can go a long way. It can have an even greater impact on video.


"Personalised video messages from your senior leadership team and subject matter experts can make a powerful impact on bid success."


But video filming is expensive and time consuming, right? Well, it is if you need to get into an executive's diary, bring in a film crew, record, edit and upload a video.

But it really isn't if you can facilitate the recording via an application like
vCreate
.

With one click an executive can record a message directly from their desktop, even using on-screen autocue prompting to keep it simple. That can be mixed with other clips or a link sent directly to the customer for them to securely view or cascade to other stakeholders.

You can track views and ensure that everyone who ought to see it does exactly that. Add to that the opportunity to record subject matter experts, create bespoke animated graphic sequences using PowerPoint, as well as tools to upload and edit existing clips and suddenly you've got a powerful, differentiating engine to go to battle with.

It could give you an unfair advantage over the competition.

*Strategic Proposals 2015


www.vcreate.tv