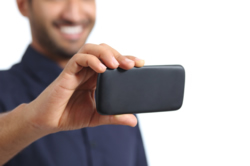 There are good comments and bad comments on social media. Then there are the ones in-between which might simply relate to more general business issues which you can help with. These are gold dust and if you're tracking comments and responding with offers and solutions then there is no better way to do that than with video. People share videos and the benefits of positive amplification are huge.

But what about the bad comments - social media negativity? It's the B2B nightmare. If it remains unchecked it can quickly amplify, leaving your reputation in tatters and badly affecting business success. Whether the initial complaint, report or expose is true or not, it needs to be dealt with. But how?

If it's a random tweet then as long as it doesn't go viral it will quickly disappear into the ether, hopefully to never rear its ugly head again. But what if it's on Facebook, LinkedIn or a consumer review site like Travel Advisor? Or on your blog? Or on YouTube? There are ways of deleting or refusing comments if they're on your own wall or page. But does that work? Does that really make them go away? Maybe defence really is the best means of attack. Silence is often construed as guilt.

People respect others who keep their cool on-line. Stick to the facts and respond with empathy and understanding. If what they're saying is true, acknowledge it, explain what went wrong, what's going to happen as a result and thank them for bringing it to your attention.

Even better still, because social media is all about connecting in a personal way, get someone senior in your organisation to pick it up and respond with authenticity and humility. That can quickly turn a negative into a positive.

One difficulty you might have, of course, is the idea that your senior person is merely putting their name to a natty piece of ghost-writing, penned on their behalf by the PR team which could simply back-fire.

So why not use video? Video is the ultimate medium for authentic, one to one social media posting. People can read between the words you say, put a face to your organisation and connect emotionally. They'll almost certainly appreciate the effort involved and the importance you have placed in their complaint or grumble.

But all this takes time and effort, right? Well, yes and no. It does take a modicum of both, but that's the point. But it needn't take any more effort or time (or cost) than you spend today writing a suitable text-based response.

By using a video tool like

vCreate

, self-recording videos on a laptop, tablet or mobile device is a cinch. You can even use its built in autocue to stay on message and take the strain out of remembering it all. Most senior people know how to talk well and on-screen prompting merely helps them stay on message and maintain eye contact with their audience.

So are there any good examples of this radical practice I hear you scream. Why yes - several near legendary examples. Like this one https://www.youtube.com/watch?v=Bpy75q2DDow

You may not get 6 million You Tube hits to every response you make but a little thought, a little effort and a personalised video will go a long way. Food for thought?

www.vcreate.tv