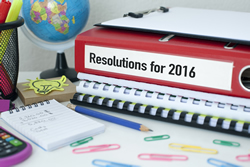 Ah, January! That's when you go back to work (having over-indulged to the point where a single additional wafer-thin mint would have caused you to explode) with renewed vitality and positivity. That's because this year, 2016, is the one where you're really going to make a difference. So, as a marketer, how exactly are you going to do that?

Here are five tips that will help you get off to a powerful start.
1 - Power your digital campaigns with video.
Just look at the facts here. A video image with a play button in an email will increase campaign open rates by 300-400%. What's even better is that, once a recipient clicks through to your video, 46% will take action. If you're not already using video as part of your campaign strategy, you simply have to wake up to the facts. If you don't, your competitors almost certainly will.
2 - Power your content marketing with video.

Nielsen claims that video will dominate 64% of marketer's content strategies this year. That's because, when it's done well, it's far more likely to get amplified via shares than plain text or infographics. It's noisy out there and customers have as little time to read marketing text as you do. A video gets the job done quickly and with far greater impact. With video tools (like
vCreate
) you can quickly create sharable video content without the need for any further expense.
3 - Power your newsletters with video.
People love newsletters but no one more so than the people who send them out. If you want to be realistic about their impact on sales, you need to be realistic about what content works. A mix of video and text can really add impact to your digital publications, turning a dry news update into something dynamic, impactful and memorable.
4 - Power your sales with video.
Huh? Did I just say 'sales'? I did. Smart marketers are waking up to the power of precision targeted sales enablement, fuelling sales and accounts teams with video collateral that can be shared personally with customers. Video is an excellent way to move customers through the buying journey and marketers need to be a part of that. It's also a great way to maximise the exposure of your senior leadership team or subject matter experts to customers. This really should be a part of your video strategy for 2016.
5 - Power your Channel with video.
If you get involved in either marketing to or for your channel, then video is the perfect way to get your message out there. By creating core video collateral to share with your channel, you can empower them to personalise and co-brand the videos (using tools like
vCreate
) before cascading your compelling sales message in the best possible way. That can either be part of a coordinated digital campaign or as a response to a customer query. Believe me, it works and your channel will love you for it. And we could all do with a bit more love.
So that's it - five ways to use video to power your marketing this year. Good luck and happy New Year!
www.vcreate.tv